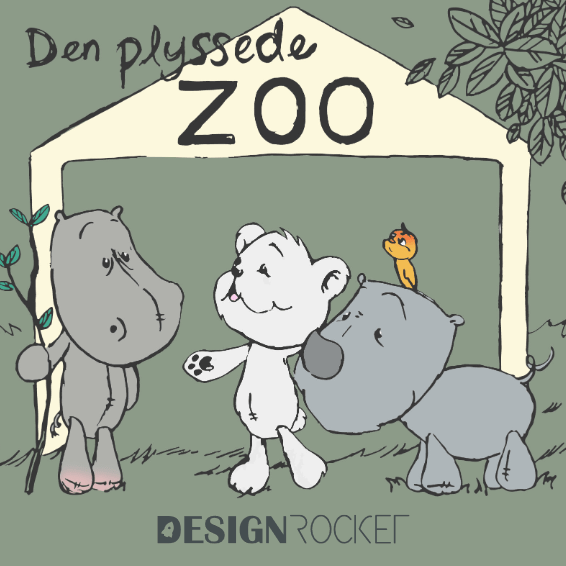 Mød Rune, Niels, Elly og Lone
Når du køber et Bamse Bo får du ikke længere bare en smart og pæn opbevaring til bamserne. Nu får du også en tegneserie med, som gerne skulle anspore forældre til at snakke med deres børn om hvorfor vi har zoologiske haver. Hvorfor det er vigtigt vi lærer om de forskellige dyr, og hvordan vi ved at passe på vores natur også passer på en masse fantastiske dyr.
Dyr i zoologisk have
I en perfekt verden skulle alle dyr selvfølgelig gerne være fri og have et fantastisk liv, men desværre er det sådan verden er. Endnu. Man kan vel håbe vi alle lærer at blive bedre til at passe på vores planet.
Men indtil vi lærer det er jeg glad for vi har så mange zoologiske haver som passer så fantastisk godt på alverdens dyr. Zoologiske haver som giver os mulighed for at lære om dyrene og som er med til at avle på, især truede dyrearter, som ikke ville overleve i naturen.
Alle dyr bør have det fantastisk
Jeg kan garantere at ingen (tøj)dyr lider overlast hos Design Rocket, privat synes jeg måske nogen gange ungernes sove-bamser har det lidt hårdt. Vi lærer vores børn al man altid skal være god ved dyr og mennesker, og det har altid været vigtigt for os at børnene lærte respekten omkring dyr og at passe på et dyr. Derfor elsker vi også at det første vores 2 årige vil om morgenen er at give vores kat Sylvester mad.
Hvordan hjælper vi ellers verdens dyr?
Vi vil fremadrettet donere 5% til dyrenes beskyttelse, for vi vil gerne være med til at hjælpe at ingen dyr bliver behandlet dårligt og mishandles. Hvis de skal være i bur, skal det være i ordnede gode forhold, og alle dyr skal behandles med respekt, værdighed og kærlighed. Alt vores træ er FSC godkendt, ligesom emballage osv. er genbrug og/elles FSC godkendt. Vi producerer kun på bestilling og forsøger at undgå spild.